A new Graduate Visa Route will commence 1st June 2021. On the 4th March 2021, the Home Office published 'A Statement Of Changes in Immigration Rules' document. The document encloses that, 'Students in the UK who want to work, or look for work, following the completion of an eligible court of study at UK bachelor's degree level or above' are given the opportunity to submit to a new graduate visa route. This New Graduate route will be introduced from 9am 1st July 2021. 
The new graduate visa route, similar to the prior Tier 1 (Post-study Work) scheme, allows international graduates an additional two-year period following their studies. The two-year period benefits graduate as they would be able to look for suitable employment at any skill and salary level, Without the need for a sponsorship from an employer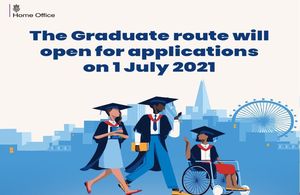 The application for the new Graduate route must be made online, via the Gov.uk website.
The following requirements must be met:
Applicant must be in the UK

Applicant must have paid any fee and Immigration Health charges 

Applicant must have provided any required biometrics 

Applicant must have provided a passport or any other travel documents which effectively establish their identify and nationality 
In order to satisfy, a total scoring of 70 Points must be awarded. 
The eligibility requirements for a Graduate are: 
Applicant must have successfully completed the course of study undertaken during their most recent grant of permission as a student 

Applicant must have last been sponsored by a Student sponsor, which is a higher education provider with a track record of compliance dating till the date of application 

The Qualification requirements set out in the

'A Statement Of Changes in Immigration Rules'

must apply. 

Applicants that have studied in a course that is of 12 months or loss, must have studied as a student legally in the UK for the full duration of their course. Students whose courses lasted longer than 12 months will need to have been granted permission for a minimum of 12 months on the student route and must have spent that time studying within the UK.

(Exceptions of absences due to Covid-19 will not be subject to the requirement)

 
Decision 
On the success of the Graduate application, applicants who have applied under a PhD or other doctoral qualifications will be granted a period of 3 years from the date of the decision and applicants with all other qualifications, as set out in the 'A Statement Of Changes in Immigration Rules' document, will be granted 2 years from the date of the decision. 
How can NA Solicitors help me?
Our team of expert immigration solicitors can increase your chances of a successful Graduate Route visa application. We not only can submit your applications for you up to a high standard but also support you with the right information and guidance. Arrange a consultation with us today.